Oh, boy. Here we go.
The projector light is on. We're connected. The first slide has filled the screen. And, naturally, the lights go out.
Zzzzzzzzzzzzz…
Yes, it's another typical Powerpoint presentation.
Maybe it's a necessary evil in the effort to communicate in the vanilla corporate world. Or, it could be chalked up to the limitations in the generic universe of Powerpoint (or Keynote) templates.
However you want to rationalize, there really is no reason to setup a series of slides that risks putting your audience to sleep. Sure, the presenter's delivery and engagement is, and will always be, the biggest factor in a successful effort. But the right visuals can amp up the engagement and interest dramatically.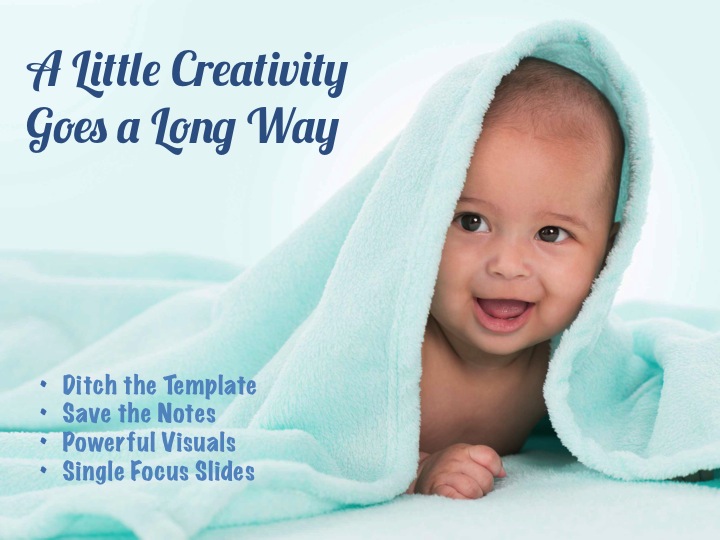 Having created and delivered countless Powerpoint-supported presentations for our firm and our clients over the years, here are some helpful tips that may help just a little bit in ridding the world of terrible Powerpoint presentations. By the way, you do not have to be a graphic designer to do this effectively (I'm not! However, a professional designer can definitely bring it to the next level). Here are some tips:
Ditch the Templates: For ease of use, Powerpoint is setup to cater to those who want to plug in the information and go. It does not provide guidance for best practices to engage your viewer, nor should it, because it's just a template. Start from the simple white or black slide option, highlight and delete the standard text boxes and get your creative juices flowing.
Powerful Visuals: Use beautiful photography or powerful graphics that capture attention. Consider elements that make an effective billboard or display advertisement eye-catching. Think of each slide as a billboard and you'll be off to a good start. Make sure your photos are high-resolution.
Cut the words (and numbers), and save the verbiage for your presentation. Regarding copy (written words), less is far more. Again, this is consistent with the billboard principle. Also, bullet-pointed lists on a Powerpoint with full sentences (and all your notes) encourages your audience to read the lists instead of listening to you. Or, worse, if you have handed out the hard copy version, it is more likely your audience will have their heads buried down into a document in a disengaged slouch. They snooze, we all lose!
Single-Focus Slides: Each slide should convey one clear idea. If a slide is attempting to help you communicate more than one major concept, it will lose its power. If you truly want your presentation to be effective in conveying a message, understand how people associate ideas and visuals and keep that association clear and undivided. One image, one idea.
Strategic Use of Animation: And by "strategic," I mean limited to only areas where it adds impact to the presentation. It may seem cool to take advantage of some whiz bang feature of suddenly appearing, fading or flying photos, graphics and/or text (and it may very well be cool). However, don't overuse animation and risk watering-down the potential impact it can make. Save the animation for the right time(s), and if it doesn't contribute to strengthening the message, then ditch it.
Interesting Fonts: While you're ditching the templates, also ditch the typical fonts that Powerpoint provides as a default. It is very simple to upload different, interesting, beautiful (and free) fonts from online resources.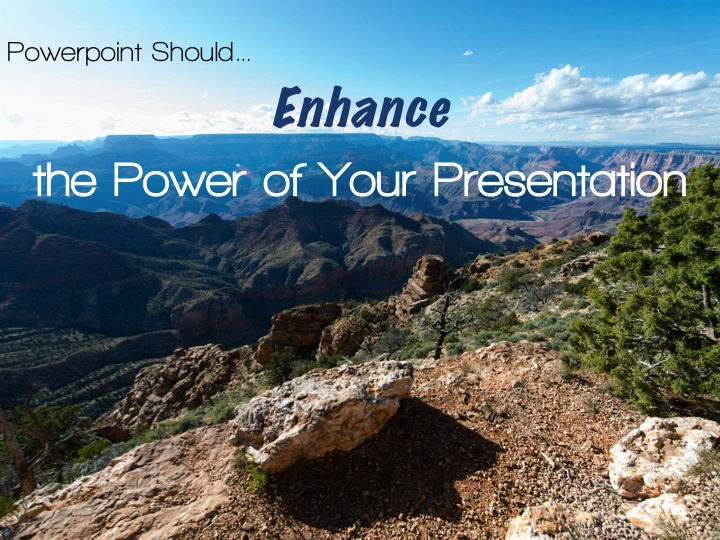 I hope these tips are helpful. And, together, we can begin to rid the world of terrible Powerpoint presentations – one slide at a time.
President of OneEighty Media, John Krol serves as Director of Accounts and lead communications consultant for this full-service marketing, communications and advertising firm. OneEighty specializes in healthcare marketing, including specific products to effectively highlight quality outcomes to referral sources and broader community.