After several years of great work and support for those living with multiple sclerosis in the Berkshires of Western Massachusetts, Southwestern Vermont and upstate New York, Multiple Sclerosis is putting its mission on the top-of-mind approaching its annual Gala to Knockout MS.
Since 2006, Multiple Sclerosis Resource of the Tri-State Area has served as an advocate for those afflicted with MS. MS Resource's services include providing information and education, offering support group sessions, ensuring that our clients secure proper equipment, insurance or transportation to appointments. The organization provides services to individuals and families in upstate New York, Western Massachusetts and Southern Vermont.
News Channel 13 news reporter and anchor, Subrina Dhammi, will serve as master of ceremonies for the gala event that will include dinner, dancing, as well as a silent and live auction. Tickets for the gala are $150 per person, or $275 per couple.
"For seven years, MS Resource has quietly provided invaluable support to families impacted by MS," said board president, Wende Carver, who lives with MS. Several MS Resource board members live with MS, which gives the organization a unique perspective on the challenges faced by those with MS. "Our gala is our major fundraiser and a perfect opportunity for those in the Berkshires to support their friends and neighbors who live with MS and benefit from our services."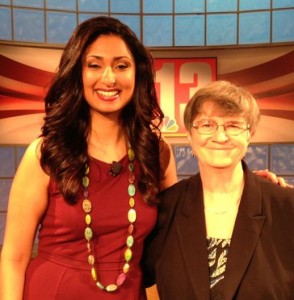 MS Resource's Medical Director is Keith Edwards, MD, who is Assistant Clinical Professor of Neurology at Harvard Medical School, Boston and a Consulting Neurologist at Beth Israel Deaconess Medical Center. He is Director of the MS Center of Northeastern New York in Latham, NY. He has been board certified in neurology since 1978.
"The support provided by MS Resource is built upon best practices and the latest research," said Dr. Edwards. "Like much of the northeast, the Berkshires has a higher per capita prevalence of MS. We encourage the community to support the work of MS Resource."
For more information on the sixth annual gala to "Knockout MS," log onto msresource.org or call Multiple Sclerosis of the Tri-State Area at 413-664-2011.