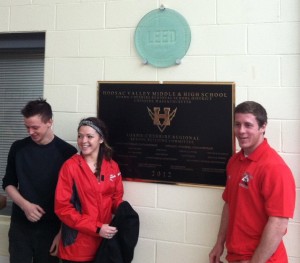 Cheshire, Mass. – Adams-Cheshire Regional School District Superintendent Kristen Gordon recognized Hoosac Valley Regional Middle & High School's attainment of the rare LEED Gold certification – representing an exceptionally high level of energy efficiency and environmental friendliness.
The official designation came following the full renovation and enhancements on the Hoosac Valley campus, which included a comprehensive upgrade in energy efficiency, including the addition of solar arrays.
"This is a remarkable accomplishment and a testament to our community's commitment to education and to our future," said Gordon. "While attaining LEED Gold certification has made the Hoosac campus more efficient, it also serves as a true educational model for our students."
eCaerus Sustainable Solutions served as the LEED Consultant on the project team that included architects Tessier Associates, Springfield MA and Margo Jones Associates, Greenfield, MA; Hesnor Engineering Assoc., Guntlow & Associates and construction management by Gilbane, Inc., Providence, RI.
"From the initial charrette, the design team focused on an integrative approach to create a highly efficient, functional, and beautiful building, which would serve the community for fifty years or more," said Brian Sutton, LEED AP for eCaerus. "The completed project is a testament to smart building, creative professionals, an involved building committee, and construction managers, all collaborating during the entire design/build process.  The final product speaks for itself."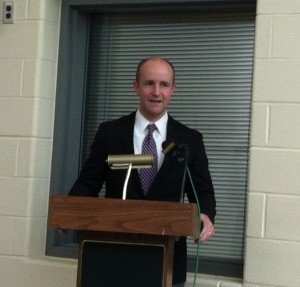 In addition to achieving LEED Gold, the project won top honors for the architects at the Western Massachusetts AIA Annual Design Awards Competition. The project was celebrated by the judges for its "skillful re-use of existing materials, daylighting improvements and thoughtful detailing of interior spaces."
The $40 million project which achieved its LEED Gold certification under LEED for SCHOOLS v2009 included the following notable elements:
•          On‐site renewable energy – 495 kWh Photo Voltaic Solar System
•          Digital display of real-time electrical energy generated by photo voltaic
•          Reduced energy consumption, significantly below current usage
•          Regionally sourced materials and low VOC finishes
•          High efficiency replacement glazing with operable windows for natural ventilation
•          Improved storm water management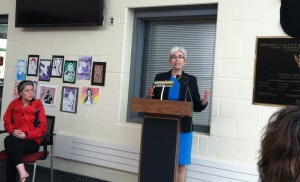 On the LEED matrix, the project received notably high marks for:
 water efficient landscaping
innovative wastewater technology
water use reduction by 34%
optimized energy performance (38% below code)
green power
building re-use 93%
over 90% construction waste diverted from landfills
regional and recycled materials over 20%
85% FSC certified wood
low emitting materials
Innovation in Design for: Green Housekeeping, Sustainable Purchasing, Integrated Pest Management
school as a teaching tool
The complete LEED project report card can be viewed online at http://www.usgbc.org/projects. Anyone interested can view the current conditions and real-time output of the Photo Voltaic Solar System at http://www.solrenview.com/SolrenView/mainFr.php?siteId=1713.