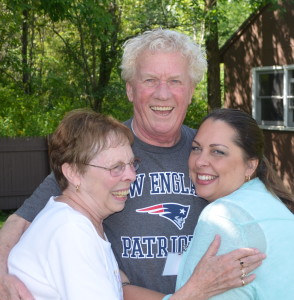 74-year-old Richard "Dick" Wendling is a hard man to keep down. Constantly on the go, he founded his own construction company in 1965 and had been working full-time until his recent health issues.
His trouble began one day in early May, as he was finishing up some maintenance repair work on a job in Pittsfield. Mr. Wendling became disoriented, lost his bearings, and had to stop work for the day. That evening, when his wife of 52 years, Carol, didn't see him sitting in his favorite easy chair, she knew something was wrong. She found him lying in bed, confused, unable to get up, or open his eyes. He spent five days in the hospital undergoing tests that were inconclusive for a stroke. Still, he remained disoriented, unable to walk or even stand. He was sent to a rehabilitation facility, where he would spend another three weeks without measurable progress. Finally, after consultation with his physician, Dick and Carol decided to go to Mount Carmel Care Center. Carol says that "within three days, we saw a big difference."
Mount Carmel Care Center's Interdisciplinary Treatment Program
Mount Carmel's full team of registered nurses, physical and occupational therapists developed a plan to help Mr. Wendling regain his strength and, ultimately, his independence with exceptional clinical support and therapy seven days per week.
Physical & Occupational Therapy
PTs used diathermy technology, passive movement therapy and stretching to help Mr. Wendling reduce pain and regain movement in his lower body.
Regular balance exercises enabled him to regain his bearings and ability to stand.
Therapists helped him progress with ambulation, initially walking with assistance, the use of a walker, and then, with just a cane.
Nursing staff worked with the physician to discontinue medications, prescribed before his arrival at Mount Carmel, and was contributing to his disorientation.
Outcome: After four weeks, Mr. Wendling was discharged home, fully independent. Recently, neurologist Alexander Klomen, MD, determined that Mr. Wendling had, in fact, suffered a stroke and it hadn't been detected earlier because of its particular location in his brain. Mount Carmel's intense, goal-oriented rehab regimen was a perfect fit for a successful stroke recovery.
In His Own Words: "No matter what you asked for, you got it! It's like family there. Everything was explained, everyone was included. They were excellent. I have told people: if you want the best care, the best focus, you have to go to Mount Carmel Care Center."
President of OneEighty Media, John Krol serves as Director of Accounts and lead communications consultant for this full-service marketing, communications and advertising firm. OneEighty specializes in healthcare marketing, including specific products to effectively highlight quality outcomes to referral sources and broader community.