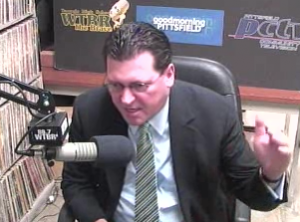 Good Morning Pittsfield hit on everything from local banking, the fiscal cliff, the debt ceiling, why viewers tuned out the BCS Championship by halftime, youths trying to find work in a tough economy, the geo-political implications of shrinking glaciers and how some are eligible for abatements on their property taxes.
Jay Anderson, President and CEO of Pittsfield Cooperative Bank and Chairman of the Pittsfield Economic Revitalization Corporation (PERC) joined me for an hour on January 7th. Topics ranged from the fiscal cliff, debt-ceiling and how PERC is strategically investing in small businesses to create core jobs in the Berkshires.
On Tuesday, Berkshire Eagle sports reporter Howard Herman made it in early that morning after returning from Kansas to see his alma mater Temple in action against the Jayhawks. It was also the morning after Alabama's pounding of Notre Dame in the BCS Championship game that will be remembered more for Brent Musburger's creepy over-appreciation of Miss Alabama Katherine Webb. "The Hawk" Herman was followed up with an interview with non-profit consultant Gene Wenner, which included a spirited-discussion on the merits of a proposed payment in lieu of taxes (PILOT) program for larger non-profits in Pittsfield. Click here to see the show online.
Wednesday included Heather Shogry Williams and Jim Ciullo, who run the youth employment program with the Berkshire Regional Employment Board. The program includes innovative internship programs throughout the Berkshires. Linda Kelly, the chairwoman of the West Side Neighborhood Initiative also gave an update on the committee's work. Click here to see the show online.
Shawn Serre stepped in to host to show Thursday with Dr. Brenda Butler, a child psychiatrist who will be presenting at an upcoming conference "Building Resilience & Protective Factors for the Youth in our Community" (Evidence-based strategies for mental health). The Berkshire Eagle's Jenn Smith was in the for second half with Shawn. Click here to see the show online.
We wrapped up the week with local advocate Dick Noble on a talk a book signing by Bob Reiss, author of The Eskimo and the Oil Man, highlighting the major geo-political, environmental and economic implications of the melting glaciers in the Arctic. Pittsfield city assessor Paula King highlighted opportunities for lower income seniors to apply for abatements on their property taxes, as well as a variety of other tips for residents as it relates to their properties. Click here to see the show online.
President of OneEighty Media, Inc., John Krol serves as Director of Accounts and lead communications consultant for this full-service marketing, communications and advertising firm. John's extensive experience in journalism, broadcasting, public relations, government relations, SEM, community outreach and marketing provides a unique perspective for businesses looking to re-energize and diversify their marketing efforts.