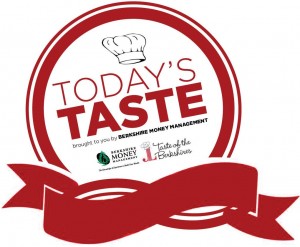 Simply: it's the Forge.
It enjoys a following that keeps the place jam-packed for lunch, dinner and at the bar, complete with the dozens of individualized drinking mugs for loyal customers that show-off just one slice of its ample uniqueness. With a rustic interior that's far more than a period motif, with the years of satisfying meals, good beer and good friends – each dent in the floor and crack in the wall has its own story in this staple on Route 7 in Lanesboro.
And then, there are the wings.
Award-winning time and again, there are those who only come for the wings. Often the orders for them pile up that the wait can be long. But, for those connoisseurs of the delicacy it's more than worth it.
At Taste of the Berkshires, the Old Forge will offer some savory favorites, including parmesan polenta with manchego cheese with brandy cream sauce and a slow sautéed roast beef brisket with chopped coleslaw on a slider roll. That sounds worth the price of admission.


For the Taste of the Berkshires, the Forge will be showing off their catering capabilities, which the restaurant's manager of banquets and catering Sarah Stoklslo hopes more people will learn about. She emphasized that the Forge is available for catering services and for in-house banquets, perfect for medium-sized parties for events like baby and wedding showers, birthday parties and upcoming holiday parties for local businesses.
Like they've always been, Ye Old Forge is ye old school and doesn't have a website or an active social media presence, instead Stoklslo says it's all about word of mouth.


"We like the comfortable, fun atmosphere. Our staff is friendly, fun, hardworking – it's a great, personable environment," she said.
For more information about Ye Old Forge, call the restaurant at 413-442-6797.
We'll be back tomorrow with another Taste!
Meanwhile, log onto the Taste of the Berkshires facebook page to learn more about the event, buy tickets and learn more about the Junior League of the Berkshires.