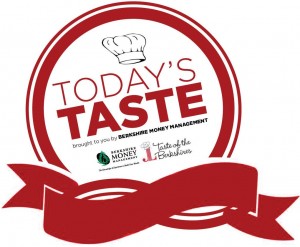 A genuine, and comprehensive Taste of the Berkshires couldn't possibly be complete without the renowned eggplant and pasta dish from Mazzeo's Ristorante, adding the authentic Italian flair to the diverse array being offered Thursday evening at the Masonic Hall in downtown Pittsfield. For Mazzeo's, always a good community partner, contributing to the Taste event (to raise dollars for the Junior League of the Berkshires) is just what this second generation family business does.


"This is all about giving back to the community. It's a great fundraiser for a great cause," said Mazzeo's Sherry Ellsworth. "We're more than happy to be included."
As Mazzeo's helps Taste of the Berkshires usher in its fifth annual iteration, the restaurant itself will soon celebrate its 25th year of business in the Berkshires. With its relatively new location at 1015 South Street (Rte. 7) in Pittsfield providing greater exposure, additional capacity for seating, ample space for special larger parties, Mazzeo's reputation has continued to grow as one of the finest eating establishments in the region.


In addition, a Mazzeo's-catered event is a not-to-miss gathering, whether it's for a birthday, wedding shower, business holiday party, or any number of events, Mazzeo's has earned its reputation for excellence.
There's plenty more to see online by visiting Mazzeo's website. For dinner reservations or to plan a party in-house or catered event call 413-448-2095.
So, don't miss Mazzeo's famous eggplant and pasta dish at Taste of the Berkshires with exceptionally good food, all for a great cause.
We'll be back Monday with another Taste!
Meanwhile, log onto the Taste of the Berkshires facebook page to learn more about the event, buy tickets and learn more about the Junior League of the Berkshires.


Check out previous Tastes on:
Brenda & Co.
Mary's Carrot Cake
The Mill Town Tavern
Mission Bar & Tapas
Phineas Gage's Moral High Ground
Sarah's Cheesecake & Cafe
Ye Old Forge