Sparked by a recent philosophical debate with an SEO expert friend of mine, I figured it's time to help you reassess SEO. Quickly, for those who do not know what SEO is: It's simply specialized work done on your website, so it appears more prominently in web search results when people are searching for your product, service, or whatever your site promotes.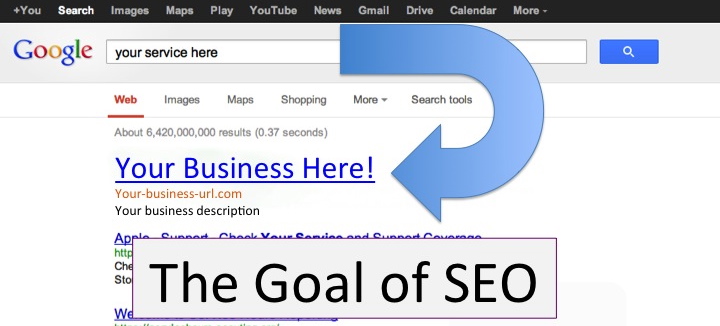 The bottom-line is that the focus of SEO is constantly changing. It needs to. SEO-pros have no choice.
Why?
Because the rules of the game are in continuous flux. Google makes it that way. You cannot pin it down. The elusive Google search algorithm reportedly changes about 200 times per year with a goal of ridding searches of spam and clutter that does not provide quality content in return for search terms. In other words, those trying to game the system will ultimately lose, and in addition, Google actually punishes those who try to cheat in their search universe.
So, really, the best way to ensure your site shows up well is to provide excellent, updated, relevant content on your site. There are no simple tricks to get to the top of the hierarchy.
However, there are some basics that make this specialty SEO work worth the investment. Really, as a business owner or webmaster it's not worth the time trying to become an SEO expert. It's Sisyphean even for many who proclaim themselves SEO pros.
So what are some things to think about when considering a consultation with an SEO expert?
* If you are considering relaunching your website, particularly if you're switching servers – consult an SEO expert like OneEighty Media. Too many businesses put a whole lot of time and effort into new design, new content – all the bells and whistles – and then forget to cover their bases on SEO. After the site is launched, they discover that their site has not only lost its Google street cred, in some cases, it's completely fallen of the face of the Google universe (never mind the top result, often the site is not even on the top 20 pages! Not good!). You need to follow your due diligence before the new site is launched so you don't lose your current ranking and people will actually find your great new site.
* If you put yourself in the shoes of your potential customer or client and search for your service, what do you find? For instance, imagine you own an agency, let's say, Really Nice Homecare, based in Wichita. First, as a baseline make sure that you're at the top of the search when you type in "Really Nice Homecare." If you're not performing well with that, you really need SEO help! However, many individuals just beginning their consumer research will want to compare and contrast and will not search for a specific name. Instead, they will search for the service – something like "homecare in Wichita" or "best homecare agencies." You'll quickly get an idea of how your website stands verses your competitors. These "keywords" are measurable and a good SEO expert can help you adjust the use of particular words to improve your position.
* In the end, those with the best, most updated and relevant content will win. An SEO expert can help you identify some of the content that will be helpful to bolster your site's position. However, there are no easy tricks to remain on top. A full, comprehensive SEO strategy includes the integration of tactical SEO and content creation. Beware of any agency or firm that tries to sell you regular (monthly payment) SEO services. Unless that package includes a regular amount of content creation (writing, photos, video, etc.) then you may be getting a taste of snake oil. SEO services are specialized and necessitate a certain amount of time upfront, but once that is done, your site shouldn't need constant SEO maintenance. It may need a tuneup every once in awhile depending on your site's performance. But, if you're paying monthly for SEO services, I've got a bridge in Brooklyn (well, you get the idea).
President of OneEighty Media, Inc., John Krol serves as Director of Accounts and lead communications consultant for this full-service marketing, communications and advertising firm. John's extensive experience in journalism, broadcasting, public relations, government relations, SEM, community outreach and marketing provides a unique perspective for businesses looking to re-energize and diversify their marketing efforts.