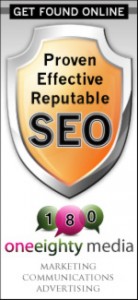 Send us a note via email or give us a call at 413-464-5830 for a free consultation.
Don't be fooled with any SEO service that makes broad, sweeping promises. I've seen some SEM/SEO services that vaguely promise the number one spot on Google, and I've even seen claims like a "guaranteed" $4,000 increase in monthly revenues (not sure where that number came from – but, I've seen it).
Further, the number one position on Google for what? For your company's name (this should be accomplished even without a whole lot of SEO work)? For particular terms or keywords? If so, which ones? Are they keywords qualified to a geographic keyword? You can see how such simple, broad claims are impossible to credibly make.
Often, these providers prey on a the layperson's lack of SEO knowledge, baffle them with some smoke and mirrors, and overwhelm with outlandish guarantees – and too many times – companies (often, without even knowing it) are wasting money on these SEO services.
OneEighty Media's SEO team has more than a decade of proven, reputable and cost-effective outcomes under our belt.
We don't make promises. We begin with a conversation.
We listen to understand your business' needs, identify opportunities and develop a plan that works for you – for your business, in your particular market. We don't do cookie-cutter. Your business is unique and deserves work that will cater to you, and increase qualified leads – not just unqualified traffic.
Send us a note via email or give us a call at 413-464-5830 for a free consultation.
President of OneEighty Media, Inc., John Krol serves as Director of Accounts and lead communications consultant for this full-service marketing, communications and advertising firm. John's extensive experience in journalism, broadcasting, public relations, government relations, SEM, community outreach and marketing provides a unique perspective for businesses looking to re-energize and diversify their marketing efforts.