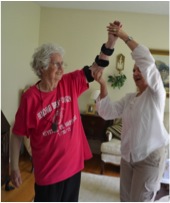 If anyone knows something about true care and compassion, it is Mavis Beam, 85, of Lee. A Boston native, she served as a teacher's aide in Jamaica Plain where she worked hands-on with students with severe physical and mental challenges. She never missed a day on the job in ten years. While that is impressive, she is most proud about being honored by her own granddaughter, Taylor, who earned a first-place award in the Berkshire Real Women Essay Contest for her loving tribute to her "Gram."
Over the years, Mavis has faced major health issues such as heart disease that necessitated the insertion of a bovine pericardial heart valve. Five years ago, Michael DeLeo, MD, of Berkshire Hematology Oncology diagnosed Mavis with breast cancer and soon, thereafter, she underwent successful surgery by Eugene Curletti, MD, of Berkshire Surgery Associates to remove the tumors. In each of these cases, Porchlight VNA helped Mavis heal and recover at home. In early April, while dog-sitting for her daughter, the energetic boxer-mix darted and pulled so hard on the leash it fractured Mavis' left elbow. She immediately pushed her Life Alert emergency button that she wears around her neck. She was rushed to Berkshire Medical Center where Anthony DeFelice, DO, performed surgery to repair her elbow. After two weeks of rehab at Kindred Laurel Lake she still needed support to regain her independence at home. Once again, Porchlight VNA/Home Care was her choice.
Read more about Mavis' exceptional experience with Porchlight VNA/Home Care after surgery by Dr. DeFelice of Berkshire Orthopaedic Associates.
To read more about Porchlight VNA/Home Care's Success Stories, click here.
President of OneEighty Media, Inc., John Krol serves as Director of Accounts and lead communications consultant for this full-service marketing, communications and advertising firm. John's extensive experience in journalism, broadcasting, public relations, government relations, SEM, community outreach and marketing provides a unique perspective for businesses looking to re-energize and diversify their marketing efforts.