Today, more than ever, for health care it's about producing great outcomes. Really, it always should have been. Think about it, what's the job of health care providers? To make patients better, healthier. Whether it's after a short illness, a surgery or even long-term ailments where families and providers have specific goals for enhancing the quality of life of the patient (such as in long-term care or hospice).
More specifically, in an era of health care reform, poor outcomes will simply zap the bottom-line of health care providers. I won't bore with you with an entire description of the new framework with ACOs (accountable care organizations), payment for services and the rest. But, simply put, when patients don't do well after leaving the hospital, causing a re-admission within 30 days, the hospital (ACO) would not be reimbursed for that re-admission.
Therefore, when a patient leaves the hospital, case managers must be focused on ensuring that the patient has quality post-acute services (in a nursing home/rehab center, home VNA services, etc.) – or else it could come back to bite the hospital (ACO) where it hurts the most – the bottom-line.
While there are always challenges to work through with anything new, I think this concept is fantastic.
Why?
Because it rewards health care providers for doing what they are supposed to do – providing excellent services and helping patients thrive and maintain the greatest possible quality of life.
It rewards quality care over a complex variety of other factors that often drive patient referrals.
At OneEighty Media, we provide a full-range of marketing services for many industries.
However, health care is a specialty of ours. So, when we identify potential health care clients, we've set specific criteria in determining if a client is right for us. You may not be surprised that the quality of clinical services is our number one priority for choosing clients. We will energize the marketing plan, increase referrals and census – only if we are confident that more people will be receiving excellent care because of our work.
That's why we are truly proud to be associated with Porchlight VNA/Home Care. In Berkshire County, Porchlight is the premier clinical home health care service with finest reputation for exceptional outcomes. Quite simply, once a patient and their family has experienced Porchlight's personalized and professional quality of care, they enthusiastically endorse it. Families continue to choose Porchlight generation after generation.
We believe sharing the great experiences patients have had, and continue to have with Porchlight, is the best way to tell Porchlight's story.
Below is an example of how we're helping tell Porchlight's story – the experience of former patient Joe Furgal:
Our outcome profile of Mr. Furgal, which helps referral sources better understand the scope and quality of Porchlight's services: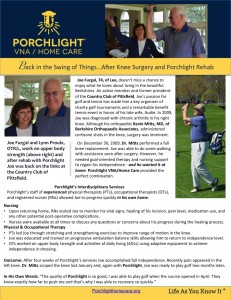 Adjoining print advertisement of the campaign: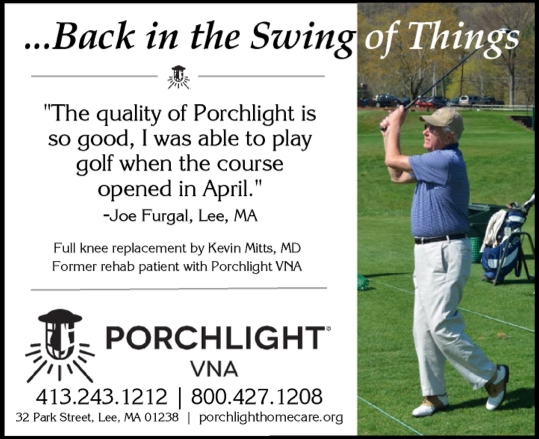 Mr. Furgal also joined us as a guest with members of Porchlight's clinical and rehab staff on the Porchlight TV show:
To learn more about OneEighty Media's specialty health care services, call me at 413-464-5830 or email me at john@oneeightymedia.net.
President of OneEighty Media, Inc., John Krol serves as Director of Accounts and lead communications consultant for this full-service marketing, communications and advertising firm. John's extensive experience in journalism, broadcasting, public relations, health care, government relations, SEM, community outreach and marketing provides a unique perspective for businesses looking to re-energize and diversify their marketing efforts.