Operations Feline Fix in Full Effect – Community Support is Needed
PITTSFIELD – Berkshire Animal DREAMS Executive Director Yvonne Borsody is calling for the support of the community for the continuation of Operation Feline Fix, a focused and concerted effort to spay and neuter community (stray) and house cats in strategic locations in Pittsfield.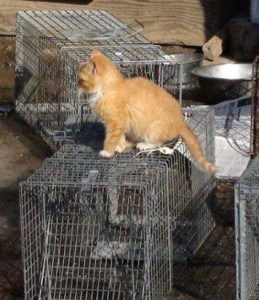 These areas include the northern portion of the Westside Neighborhood and the Berkshire Crossing (off of Dalton Ave.) commercial area – both of which have been identified with a high population of homeless cats.
Operation Feline Fix is being made possible with an $8,000 grant from PetSmart Charities. Those dollars are earmarked for the cost of spaying, neutering, rabies vaccinations and additional trapping equipment to help Animal DREAMS reach its goal of fixing 300 cats by May 31st.
However, the grant covers only about half of the total cost needed to trap, feed, temporarily house, transport, screen and vaccinate the cats.
"This is an incredible opportunity to humanely attack the overpopulation challenge, consistent with Animal D.R.E.A.M.S.' mission," said Borsody. "However, to accomplish our goal, we need the community to support us by volunteering, being our eyes and ears to identify locations of community cats, and to fund the cost of caring for these vulnerable animals."
The effort also would not be possible without the cooperation of local veterinarians who are accommodating for the influx of cats needing procedures.
Two out of three stray cats are the products of unfixed cats in the community and Berkshire Animal D.R.E.A.M.S.' goal is to break that cycle.
To raise the needed funds to make Operation Feline Fix a success, the organization is appealing to individuals and businesses throughout the region to sponsor cats and raise the additional $8,000 needed to fund this effort.
Operation Feline Fix's goal is to spay and neuter community cats as well as house cats. Those aware of unneutered cats, with or without owners, are asked to call Berkshire Animal DREAMS at 413-997-2287.
President of OneEighty Media, Inc., John Krol serves as Director of Accounts and lead communications consultant for this full-service marketing, communications and advertising firm. John's extensive experience in journalism, broadcasting, public relations, government relations, SEM, community outreach and marketing provides a unique perspective for businesses looking to re-energize and diversify their marketing efforts.