Berkshire Animal D.R.E.A.M.S. is teaming up with the Arizona Pizza Company restaurant on Pittsfield Road, Lenox, to help raise money to help the feline rescue organization fulfill its mission. On Sunday, December 23rd, Arizona Pizza will donate 20 percent of every participating customer's bill to Berkshire Animal DREAMS. Customers must let the server know that they are dining in support of Animal D.R.E.A.M.S. to ensure that it benefits the organization.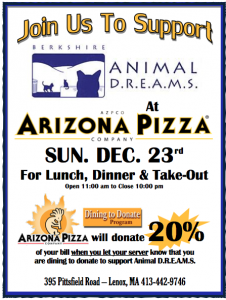 The fundraiser will include meals for lunch, dinner and takeout on Sunday during Arizona Pizza's open hours from 11 a.m. to 10 p.m. at the Lenox restaurant, 395 Pittsfield Road.
"We are thrilled to team-up with Arizona Pizza again to help us raise dollars that are essential to save the lives of vulnerable, homeless cats throughout the Berkshires," said Berkshire Animal DREAMS founder Yvonne Borsody. "We cannot provide the important vaccinations, neutering and food that not only help cats and kittens live healthier lives – but enables us to humanely control the population of feral cats in our community."
Berkshire Animal D.R.E.A.M.S. is funded primarily through private contributions by residents throughout the Berkshires. The non-profit is the only organization that proactively works to reduce the population of feral cats through the humane trap, neuter, return (TNR) program.
This Arizona Pizza fundraising effort will benefit the operations of Animal D.R.E.A.M.S., which includes the cost of neutering and other health care services, operations of the headquarters, specialized equipment and more. In addition to striving to stabilize the feral cat population, Animal D.R.E.A.M.S. works through advocacy, education and action to raise awareness and activism among citizens, animal care professionals, local government and the business community.
To learn more about the organization, receive more information on adoptions, or to volunteer, contact Animal D.R.E.A.M.S. at 413-997-2287(CATS), P.O. Box 1073, Pittsfield, MA 01202, email info@berkshireanimaldreams.org, log onto berkshireanimaldreams.org, or stop in at the headquarters from 12 p.m. to 4 p.m. weekdays at 441 North Street.While many of the cats that are trapped, neutered and stabilized are returned to the community, some felines are appropriate for adoption. Many of these adoptable cats are located at Animal D.R.E.A.M.S. headquarters where the you can meet them.
Learn more about Animal DREAMS' work in the video below (created for a previous fundraiser).