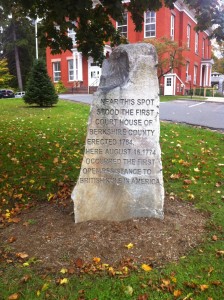 GREAT BARRINGTON – Kindred Great Barrington Nursing and Rehabilitation Administrator Bill Kittler announced today that, in partnership with Porchlight VNA/Home Care, they will be hosting a champagne breakfast and presentation by the Great Barrington Historical Society, on Tuesday, July 2 at 8:30 a.m. at Kindred Great Barrington, 148 Maple Avenue.
The event is free and open to the public. Donations will be accepted to support the Great Barrington Historical Society.
The Great Barrington Historical Society's Gary Leveille will present "Great Barrington and the Revolutionary War," highlighting the often overlooked influence this region had in the events leading up to the American Revolution.
"As we pause to celebrate the birth of America this week, it's a great opportunity to look inward and recognize the role our own community played in changing world history," said Kittler. "We're thrilled to host the historical society and to share our own town's unique story."
Leveille explained that a very significant act of defiance, 1,500 men taking action to shut down the Berkshire County Court in response to British oppression, clearly reflected the town's revolutionary spirit.
"It was here – in 1774 – that the first open resistance to British judicial rule in America took place," Leveille said. "Many folks believe that 'everything' occurred in and around Boston, but Berkshire County was an early hotbed of resistance against British rule."
The event is free and open to the public, however, space is limited and reservations are required. To RSVP for this free champagne breakfast and presentation, please call Kindred Great Barrington at 413-528-3320, ext. 32. The breakfast begins at 8:30 a.m. and the presentation will begin at 9:00 a.m.