Bin There Dump That Receives Franchise Business Review "Top 50" Award for the second year in a row!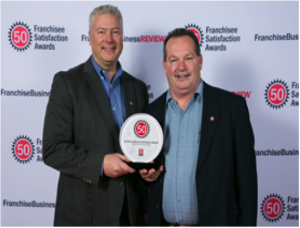 For the second consecutive year, Bin There Dump That is proud to have received the FBR Top 50 Franchises award for franchisee satisfaction! Franchise Business Review conducts independent surveys of the franchisees in thousands of franchise companies across North America every year to measure franchises in the areas of:
Franchise System, Corporate Leadership, Care Values, Franchise Community, Franchise Self-Evaluation, Financial Opportunity and General Satisfaction.
The results of the 2013 FBR survey of Bin There Dump That franchise operators consistently showed results that not only improved upon the excellent numbers achieved in the 2012 survey, but ranked higher than the FBR Benchmark in over 90% of all the questions asked!  Bin There Dump That works extremely hard to support our franchise operators in every possible way and is dedicated to improving on that support on a daily basis.  Constant innovation and improvement have been the goal of the BTDT team from the beginning and we are proud to work and grow with our franchise operators.
Thank you Bin There Dump That franchise operators for your hard work and dedication to the brand, to each other and to yourselves.  We are all members of a great team!