Could the legalization of medical marijuana be a boon for the vast Second Berkshire District? Some say yes. In fact, the extremely rural, agriculturally-focused area of the commonwealth went a step further. Not only did the district (along with the rest of Massachusetts) vote in favor of the legalization of medical marijuana, it also passed its own unbinding ballot question that instructs its state representative to support the legalization of marijuana. Period. That is, make it as legal as alcohol so that those 21 and older can purchase and use the substance responsibly.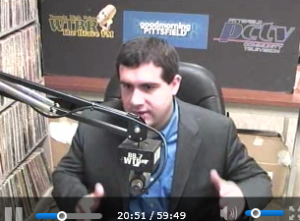 State Representative Park Mark (D-Peru) is the guy who has received the instructions to support legalizing marijuana. With his district encompassing everything from a little slice of the Berkshire County seat, Pittsfield, to the state-owned-land-dominated towns of Savoy and Windsor, out to the Mohawk Trail including towns like Buckland, Shelburne and Greenfield. He's naturally a member of the house agriculture committee and one would presume that his district's overwhelming support for marijuana has more to it than folks wanting to toke-up in them there hills.
"That's going to be an interesting thing to tackle with the medical marijuana. That could be a pretty big crop for a lot of the district," Mark told Good Morning Pittsfield Monday. "I know a gentleman from a small town who has approached me about growing hemp as well. Anything that's an opportunity for people to keep their farms going and keep the land clear and have some economic success" is something that Mark will explore and help make local farming viable.
This would be a major shift as law enforcement resources are used (particularly aircraft) to crack down on illegal marijuana crops.
For the record, the actual question on the 2nd Berkshire ballot "Should the state representative from this district be instructed to vote in favor of legislation that would allow the state to regulate and tax marijuana in the same manner as alcohol?" passed with an decisive vote of 13,340 in favor to 5,222 against.
Unbinding, yes. Overwhelming, yes. Mr. Mark has his marching orders. And shifting the balance of state resources being used to crack down on marijuana in favor of a new framework that provides an opportunity for new revenue for the commonwealth and local farmers – it's an idea that may have been tough to swallow just a few years ago. But, today, it's clear that perceptions of marijuana have changed with generational shifting throughout the country. It's better to be prepared to take advantage of those shifts, and as representatives conjure ways to legislate the will of the people in the case of medical marijuana – it should also consider ways to support farmers invest in a new market. It's likely that the distribution of medical marijuana will be highly regulated, so the commonwealth also has the opportunity to benefit our own agricultural industry with strategic starter crops and modest investments.
President of OneEighty Media, Inc., John Krol serves as Director of Accounts and lead communications consultant for this full-service marketing, communications and advertising firm. John's extensive experience in journalism, broadcasting, public relations, government relations, SEM, community outreach and marketing provides a unique perspective for businesses looking to re-energize and diversify their marketing efforts.