PITTSFIELD – Allen Harris, President of Berkshire Money Management, announced that he is offering a $5,000 reward for information that leads to the arrest and conviction of the individual or individuals responsible for the recent cruel and sadistic treatment of a cat in the vicinity of Howland Avenue in Adams.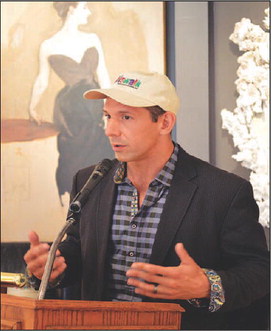 The cat was found left to die in a makeshift setup to hang the animal. Luckily, a passerby heard the choking cat, called 911, and saved its life.
"This is a heinous crime. I recognize that without some additional incentive the perpetrator or perpetrators may not be brought to justice," said Harris. "I implore anyone who knows something, anything, that may be helpful to law enforcement to do the right thing and report it."
Those with any information about this crime should call Adams Police at 413-743-1212.
Like many others, Harris said that he was absolutely shocked and appalled reading the details of the despicable acts in Wednesday's Berkshire Eagle. Such cruel behavior should not be tolerated, whether the victim is a cat, dog or any other living creature.
Harris and his wife, Stacey Carver, have been long passionate supporters of vulnerable animals in the community. They have dedicated time and resources to several causes including Berkshire Animal D.R.E.A.M.S., New England Basset Hound Rescue, Eleanor Sonsini Animal Shelter and others. Carver is a board member for Animal D.R.E.A.M.S. and New England Basset Hound Rescue, Inc. and Harris is a member of the city of Pittsfield Animal Control Board.
President of OneEighty Media, Inc., John Krol serves as Director of Accounts and lead communications consultant for this full-service marketing, communications and advertising firm. John's extensive experience in journalism, broadcasting, public relations, government relations, SEM, community outreach and marketing provides a unique perspective for businesses looking to re-energize and diversify their marketing efforts.