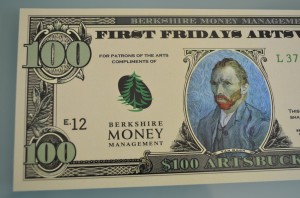 So, you remember the first go-round of the Artsbuck?
It's what put Pittsfield's First Fridays ArtsWalk on the map with a cool rebate from those who spent $200+ on artwork featured in the monthly event. People got those Artsbucks, and used them. I could bore you with the numbers, but I won't. The impact was significant.
Artists got more money in their pockets, business owners hosting the artwork generated more sales of their own merchandise and Artsbucks innovator Allen Harris of Berkshire Money Management delivered more good vibes in the community – consistent with other BMM creations like the Paws for Dignity benefiting Animal D.R.E.A.M.S., the Great Turkey Giveaway to make sure everyone had a warm Thanksgiving dinner for the holiday season, his generous support of the Berkshire United Way – to name a few.
This time is different.
Instead of appealing to the common sense (pay $200+ and get $100 back) side of the art buying consumer, Allen and the ArtsWalk is counting on our altruistic side. For an Artsbuck purchase of $200+ in the month of May, Berkshire Money Management will donate $100 to the Berkshire non-profit of the purchaser's choice.
They're counting on the giving side of consumers to give them the extra nudge to buy that special piece of art. They're also counting on the non-profit community – administrators, staff, board members, donors and others – to help get the word out. After all, it can only help a non-profit to have art lovers thinking of their particular organization when making a purchase.
This is how the May Artsbuck program works: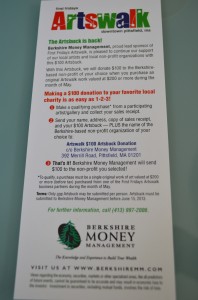 1. Make a qualifying purchase (single original work of art for $200 or more before tax from one of the First Fridays ArtsWalk business partners during the month of May) and collect your sales receipt.
2. Send your name, address, copy of your sales receipt and your $100 Artsbuck – PLUS the name of the Berkshire-based non-profit you'd like to support to Artswalk $100 Artsbuck Donation, c/o Berkshire Money Management, 392 Merrill Road, Pittsfield, MA 01201.
3. That's It! Berkshire Money Management will send $100 to the non-profit you select.
The bucks are available at downtown locations participating in the ArtsWalk, the Lichtenstein Center for the Arts on Renne Avenue, or at Berkshire Money Management.
The next ArtsWalk is Friday, May 2nd at 5 p.m. in Downtown Pittsfield – a great way to ring in spring.
It's hard to imagine a better way to support local artists, enjoy downtown Pittsfield and benefit the cause you care deeply about. And it seems to be a great precursor to another incredible opportunity Berkshire Money Management will be offering to bolster the non-profit you love. You'll surely be hearing about that in the coming weeks.
President of OneEighty Media, Inc., John Krol serves as Director of Accounts and lead communications consultant for this full-service marketing, communications and advertising firm. John's extensive experience in journalism, broadcasting, public relations, government relations, SEM, community outreach and marketing provides a unique perspective for businesses looking to re-energize and diversify their marketing efforts.